Posts for tag: tooth decay
By Dental Concepts
April 08, 2019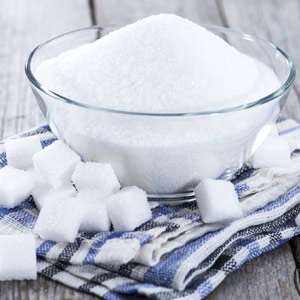 "Cut down on sweets, especially between meals" is perhaps one of the least popular words of advice we dentists regularly give. We're not trying to be killjoys, but the facts are undeniable: both the amount and frequency of sugar consumption contributes to tooth decay. Our concern isn't the naturally occurring sugars in fruits, vegetables, grains or dairy products, but rather refined or "free" sugars added to foods to sweeten them.
The World Health Organization and the U.S. Food and Drug Administration both advise consuming no more than 50 grams (about ten teaspoons) of sugar a day. Unfortunately, our nation's average per person is much higher: we annually consume around 140 pounds per capita of refined sugars like table sugar or high fructose corn syrup, more than three times the recommended amount. Soft drinks are the single largest source of these in our diets — Americans drink an average of 52 gallons every year.
The connection between sugar and tooth decay begins with bacteria that ferments sugar present in the mouth after eating. This creates high levels of acid, which causes the mineral content of tooth enamel to soften and erode (a process called demineralization) and makes the teeth more susceptible to decay. Saliva naturally neutralizes acid, but it takes about thirty minutes to bring the mouth's pH to a normal level. Saliva can't keep up if sugars are continually present from constant snacking or sipping on soft drinks for long periods.
You can reduce the sugar-decay connection with a few dietary changes: limit your intake of sugar-added foods and beverages to no more than recommended levels; consume sweets and soft drinks only at meal times; replace sugar-added foods with fresh fruits and vegetables and foods that inhibit the fermentation process (like cheese or black and green teas); and consider using mint or chewing gum products sweetened with xylitol, a natural alcohol-based sugar that inhibits bacterial growth.
Last but not least, practice good oral hygiene with daily brushing and flossing, along with regular office cleanings and checkups. These practices, along with limits on refined sugar in your diet, will go a long way toward keeping your teeth and mouth healthy and cavity-free.
If you would like more information on the relationship of sugar and dental disease, please contact us or schedule an appointment for a consultation. You can also learn more about this topic by reading the Dear Doctor magazine article "Nutrition & Oral Health."
By Dental Concepts
December 19, 2018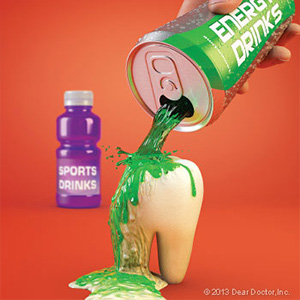 Sports and energy drinks — two different types of popular beverages. But though different they have one thing in common: they can both wreak havoc on your tooth enamel.
That's because each contains high concentrations of acid. And acid is tooth enamel's mortal enemy — prolonged exposure with it causes the minerals in enamel to soften and erode, a process called de-mineralization.
Demineralization becomes even more pronounced when the mouth's pH levels fall below 4.0 into the acidic range. A sampling of various brands of sports and energy drinks reveal mean pH levels below even that threshold. Energy drinks are especially harmful to enamel because the type of acid they contain is more concentrated.
So, what can you do to minimize this threat to your dental health? The optimal thing to do is avoid such beverages altogether, especially energy drinks. If you currently re-hydrate after hard work or exercise with sports drinks, consider switching to water, nature's hydrator.
If you do, however, continue to drink these beverages, then follow a few precautions to lessen the acidic levels in your mouth:
Wait until mealtimes. Saliva is your body's way of neutralizing acid in your mouth, but it takes about 30 to 60 minutes for it to fully buffer acid. If you're sipping between meals on acidic beverages, saliva can't keep up. So, wait until you eat or limit your sipping time on a drink.
Rinse with water. Since water's pH is neutral, swishing some in your mouth right after drinking a sports or energy drink will help reduce acidity.
Wait an hour to brush. Your enamel will begin demineralizing as soon as it encounters acid. If you brush right away you could be sloughing off miniscule amounts of softened minerals. By waiting an hour you give your saliva time to buffer and help re-mineralize the enamel.
Although popular, especially among teenagers and young adults, overindulgence in sports and energy drinks could damage your teeth and increase your risk for tooth decay. With a little moderation and common sense, you can keep your enamel strong and healthy.
If you would like more information on the effects of sports and energy drinks on dental health, please contact us or schedule an appointment for a consultation. You can also learn more about this topic by reading the Dear Doctor magazine article "Think Before you Drink."
By Dental Concepts
November 29, 2018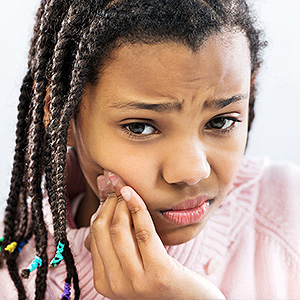 Nothing grabs your attention like a sharp tooth pain, seemingly hitting you out of nowhere while you're eating or drinking. But there is a reason for your sudden agony and the sooner you find it out, the better the outcome for your oral health.
To understand tooth sensitivity, we need to first look at the three layers of tooth anatomy. In the center is the pulp filled with blood vessels and nerve bundles: it's completely covered by the next layer dentin, a soft tissue filled with microscopic tubules that transmit sensations like pressure or temperature to the pulp nerves.
The third layer is enamel, which completely covers the crown, the visible part of a tooth. Enamel protects the two innermost tooth layers from disease and also helps muffle sensations so the tooth's nerves aren't overwhelmed. The enamel stops at about the gum line; below it the gums provide similar protection and sensation shielding to the dentin of the tooth roots.
Problems occur, though, when the dentin below the gums becomes exposed, most commonly because of periodontal (gum) disease. This bacterial infection caused by dental plaque triggers inflammation, which over time can weaken gum tissues and cause them to detach and shrink back (or recede) from the teeth. This can leave the root area vulnerable to disease and the full brunt of environmental sensations that then travel to the nerves in the pulp.
Tooth decay can also create conditions that cause sensitivity. Decay begins when certain oral bacteria multiply and produce higher than normal levels of acid. The acid in turn dissolves the enamel's mineral content to create holes (cavities) that expose the dentin. Not treated, the infection can eventually invade the pulp, putting the tooth in danger of being lost unless a root canal treatment is performed to remove the infection and seal the tooth from further infection.
So, if you begin experiencing a jolt of pain while eating or drinking hot or cold foods or beverages, see your dentist as soon as possible to diagnose and treat the underlying cause. And protect your teeth from dental disease by practicing daily brushing and flossing, as well as seeing your dentist for regular dental cleanings and checkups. Don't ignore those sharp pains—your teeth may be trying to tell you something.
If you would like more information on tooth sensitivity, please contact us or schedule an appointment for a consultation. You can also learn more about this topic by reading the Dear Doctor magazine article "Treatment of Tooth Sensitivity."